Contact us today
Call: (727) 544-8841
What You Need to Know About Trucking Insurance
How does commercial trucking insurance work?
Out of all the types of business insurance available, trucking insurance is one of the more unique ones. Yes, it protects trucks that transfer products and goods from one place to another, which isn't anything groundbreaking.
What makes commercial trucking insurance special is how it's purchased. If you're an independent trucker with your own big rig or semi, then you buy it for yourself. Or you may be part of a larger trucking company that owns the vehicles outright. In this case, the company is responsible for insuring the trucks.
Regardless of who purchases the policy, trucking insurance is there for you when commercial auto insurance just won't cut it. Trucking usually requires many straight hours of driving, often across state borders, and involves many unpredictable risks. Between the constant wear and tear on the machinery and environmental factors on the road, you need insurance that'll be there, rain or shine.
Who can use trucking insurance?
You already know trucking isn't isolated to a single industry or specialty good. In fact, in 2020, 72.5% of the total domestic tonnage shipped was transported by truck. There are many types of trucks on the road, and trucking liability insurance can account for them all. A few examples of companies and trucks that can use commercial trucking insurance include:
Livestock Trailers and Movers
Moving Companies
Delivery Drivers
Container Haulers
Cement Mixers
Tow Trucks
Box Trucks
Construction Material Movers
Dump Trucks
Automotive Haulers
What kind of insurance does a truck driver need?
Federal guidelines require you to have commercial truck insurance for all interstate transportation. As we mentioned in the first section, only the direct owner of the truck needs to maintain the policy, whether it's an independent contractor or a larger company.
The amount of coverage required varies, based primarily on what you're hauling.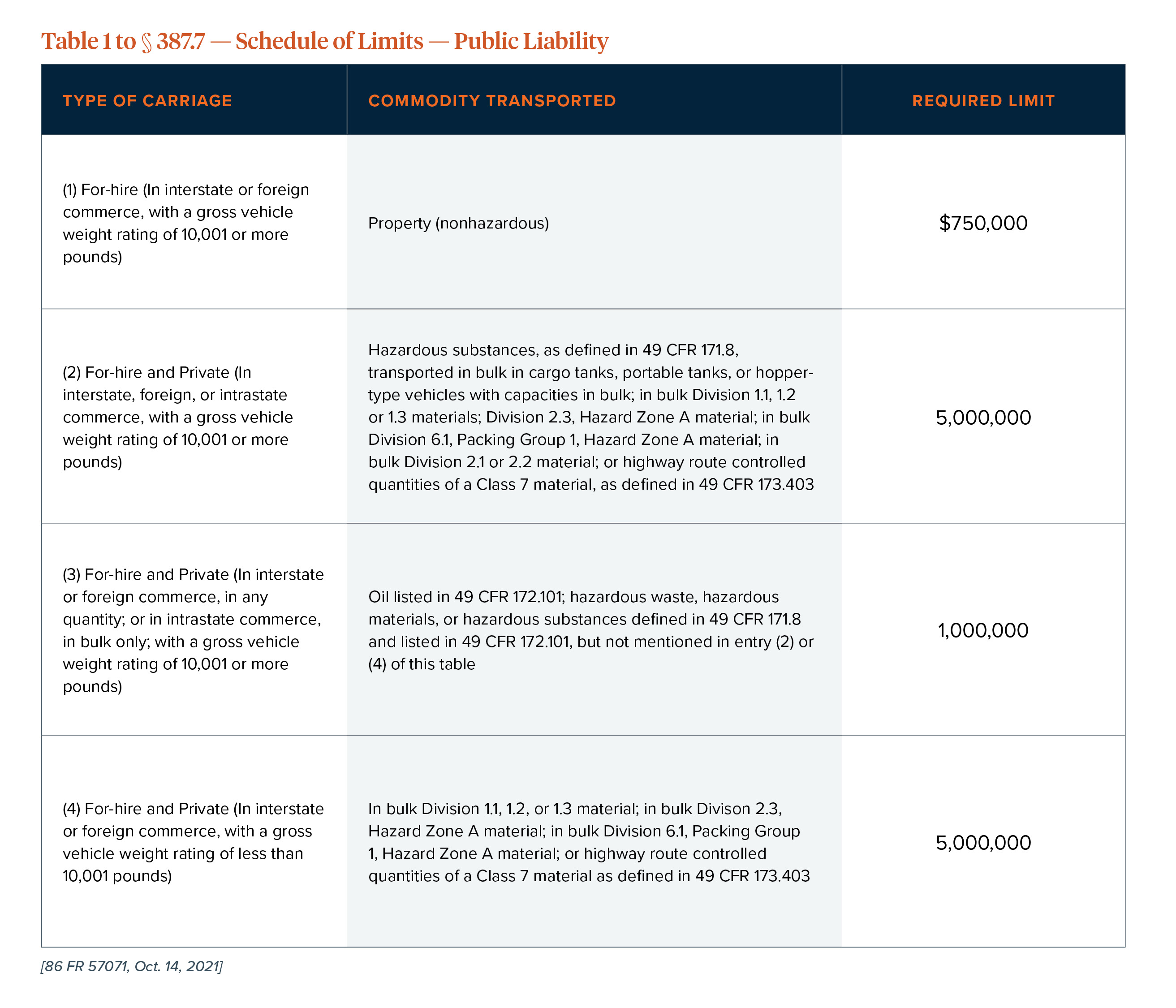 If your trucking operations stay within a single state, you don't have to worry about the federal insurance requirements. However, you may be subject to state insurance requirements, so be sure to take the time and double check.
Do truckers need general liability insurance?
General liability insurance is different from trucking liability insurance. They sound similar but cover very different things. You don't need it like you need trucking insurance, but it's still very beneficial coverage to have.
With general liability insurance, you cover things associated with business, not trucking or transportation themselves. A couple of these coverages include:
Bodily injury and property damage that occurs due to a covered incident.
Personal or advertising injury.
What does trucking insurance cover?
Every trucking insurance policy is a little different from the rest based on your or your company's needs. That said, there are several common coverages you can include when building your trucking liability insurance policy.
Primary Liability — Covers bodily injury and property damage to third parties caused by your trucking operations.
Physical Damage — Covers the cost of damage to your vehicle due to an accident, theft, or vandalism.
Medical Payments — In the case of an accident, this coverage helps take care of medical bills for the driver and passengers who may have been injured.
Uninsured/Underinsured Motorists — Just like standard car insurance, this coverage protects you against costs caused by accidents with uninsured and underinsured motorists.
Motor Truck Cargo — This coverage is designed specifically for independent truck owners and operators. It protects the cargo on your truck against incidents like fire and collision. That said, not all loads are covered, and high-ticket or volatile items like jewelry, tobacco, alcohol, explosives, and live animals may be excluded.
How much does trucking insurance cost?
Your commercial trucking insurance premium can vary a lot from someone else's, even if you're in similar situations or have similar policies. Some factors that affect premiums include:
The type(s) of vehicles you're insuring.
How far vehicles are traveling per year.
Types of cargo.
Drivers' driving records.
The location of your center of operations.
Standard operating radius.
How you store the vehicle(s).
Amount of coverage you opt for.
As commercial trucking insurance professionals, we strive to know you and your worries. We spend time listening and learning to serve you better and help you find solutions.
You've worked hard to build and promote your trucking operation. The next step is to protect it. We'll assess your risks and help you tailor an insurance policy.
We'd love to chat with you. Contact ARCW Insurance today!