ARCW Insurance can enhance your workers compensation management program.
With knowledgeable support, aggressive claims management, and competitive pricing, our workers compensation resources and services set us apart.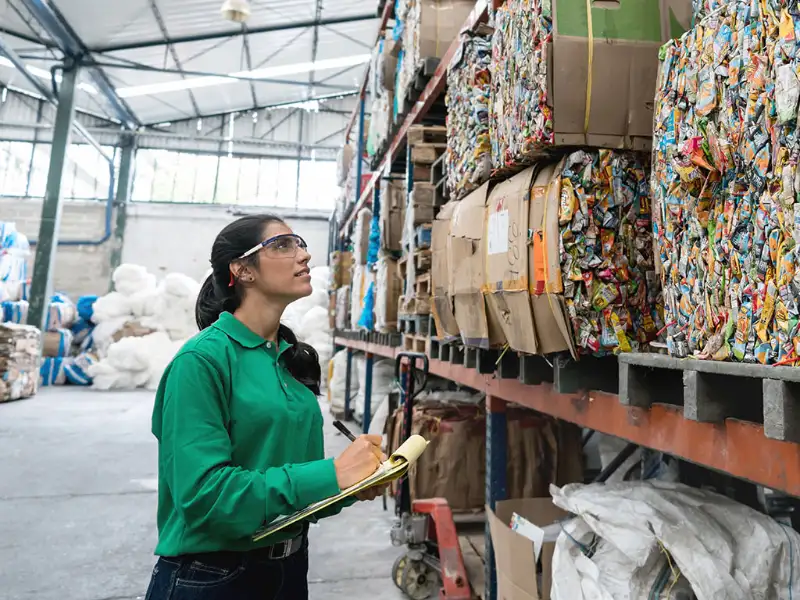 Contact us today
Call: (727) 544-8841
What You Need to Know About Workers Compensation
What is
Workers Compensation Insurance?
Workers compensation insurance provides coverage for medical expenses, rehabilitation costs, and lost wages for employees who are injured or become ill at work. This coverage is required by most states and can be the most expensive line of insurance for most employers.
Who Needs Workers Compensation Insurance?
Trick question – every business does. Many business owners feel that if their employees are independent contractors because they get 1099's instead of W-2's. This does NOT matter. What matters is whether they do this type of work for anyone else (like a contractor who has their own insurance, vehicle, and tools), and the issue of "control" where the employer tells them how and when to do their job.
Workers Comp Insurance Requirements
Some states require workers compensation insurance if you have a minimum of three to five employees, while other states, such as California, require workers compensation even if you have only one employee. All states agree that even if you aren't required to carry workers compensation insurance, you are required to pay for medical and disability expenses incurred by any "employees" who are injured while working for you. If there is disagreement on the issue, a determination is made by the Department of Labor in your state after the injury has occurred.
What is an e
-
Mod factor?
An e-Mod factor is a rating number that is calculated based upon your workers compensation premiums and workers compensation claims payments and is designed to show what risk level your company is based on similar companies in your industry and location. There are many factors that are gathered and used in the calculation of this factor, but the two specific factors that a business owner or executive can manage and affect are the workers compensation premium and the workers compensation claims payments.
Costs
of Workers Comp Claims
An effective risk management program goes beyond simply purchasing an insurance policy and paying an annual premium. No matter the size of your organization, there are steps you can take to improve the safety of your employees and take control of costs.
According to the National Safety Council, the average cost of workers compensation claims is $40,051. In addition to the medical costs, wage replacement, and indirect costs associated with a claim, there is also the negative impact that a claim can have on a company's experience modification (or e-mod) which can significantly increase workers compensation insurance rates for the next three years.
| | | | |
| --- | --- | --- | --- |
| Cause of Injury | Medical (avg.) | Indemnity (avg.) | Average Total Cost of Claim |
| All Claims Average | $22,219 | $17,832 | $40,051 |
| Motor Vehicle Accidents | $44,720 | $33,573 | $78,293 |
| Fall / Slip | $26,787 | $19,805 | $46,592 |
| Struck By | $20,753 | $16,226 | $36,979 |
| Strain | $17,167 | $16,378 | $33,545 |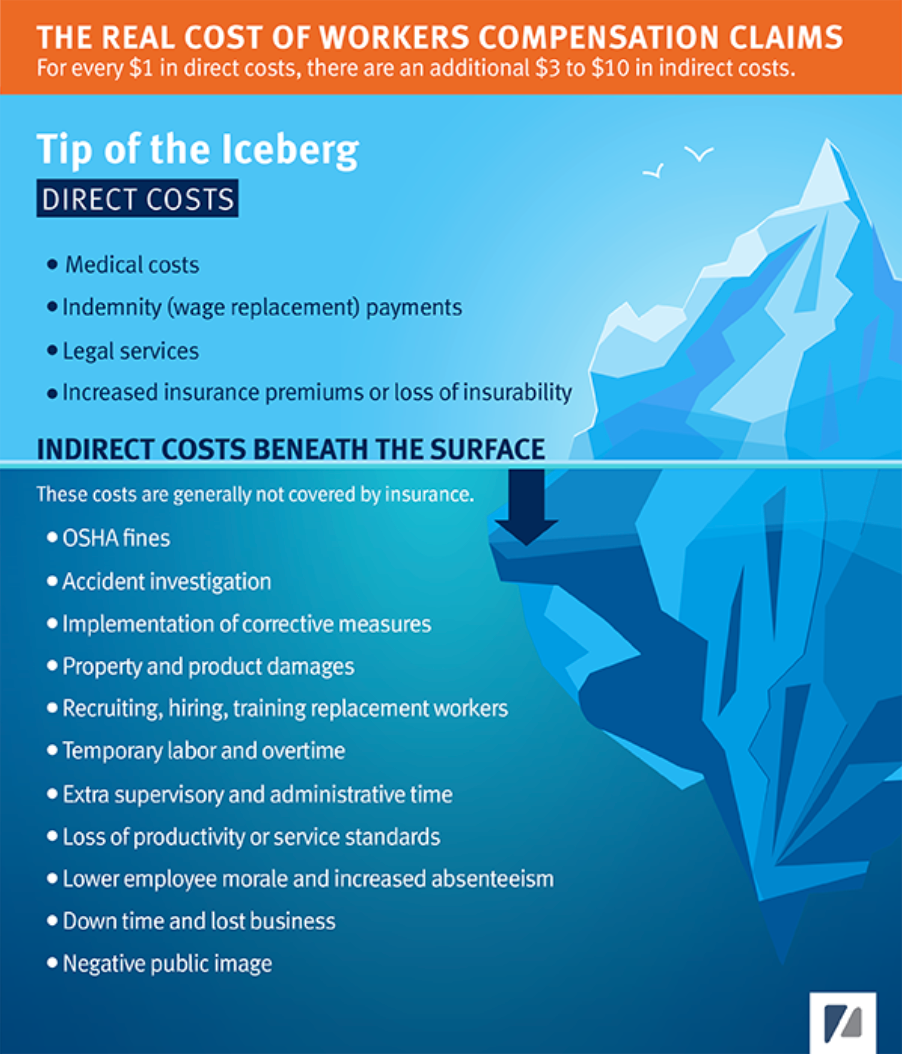 Reducing
Insurance
Costs with an Effective Safety Culture
Developing an effective work safety culture can help reduce workplace injuries and reduce direct and indirect workers compensation costs. Protect your employees by minimizing any job hazards. You should always be evaluating every aspect of your workplace to ensure the safest environment possible. Here are key things you can do to improve your safety culture:
Establish a written safety program. Your safety program should include training on preventing workplace accidents and injuries as well as incentives for maintaining an accident-free environment. Getting commitment from management and employees is key.
Be selective in your hiring process. Choose new hires who share the same work safety culture values. Provide accurate job descriptions to job applicants, obtain previous work references, and conduct criminal background checks. Also, conduct a pre-start post-offer drug test and obtain a motor vehicle report (MVR) for new hires.
Reduce human error. Ensure employees know the correct methods and procedures to accomplish their work responsibilities. Require employees to demonstrate skill proficiency before performing tasks on their own.
Prevent accident recurrences. Investigate and document every injury and near-miss. Identifying why and how the accident occurred and making proper corrections can help prevent future incidents.
Emergency Preparedness. Prepare emergency announcements and do test runs of emergency response systems to familiarize employees.
Create a policy on distracted driving. Motor vehicle accidents account for a large percentage of work-related fatalities. Texting while driving makes an employee 23 times more likely to have an accident. A federal ban prohibiting drivers of commercial vehicles from texting has also been recently enacted. Create a written policy for both distracted driving and texting while driving, and have all employees sign off on it.
Establish and enforce disciplinary measures for safety violations. There should be some type of corrective action for any employee who doesn't abide by safety requirements.
Train your supervisors in-house. They may have previously been trained as supervisors in general, but they need to also be trained in your work environment.
Frequently Asked Questions
Finding The Best And What To Look For
Every workers compensation company must conform to state statutes on coverage terms, limits of liability and benefits. To this extent, you'll get the same insurance policy from any company you choose. Beyond that, however, there are many variables that determine the value you get for the premium you pay. As a policyholder, you benefit the most when you select a carrier that acts as a partner, invested in the success of your business. Work comp is required, but it can be an advantage that protects your people and your bottom line.
Customer Service
Your provider should be easy to access when you have questions or concerns about claims, premium payments, workplace safety or anything else.
Accessible experts
You should have the option of online self-service, but you should also be able to easily reach a real person to help you when you need it. Your carrier should have a customer service line that you can call any time with questions. The customer service representative may connect you with another internal expert who can help.
Expertise
To get the most value for your premium, choose a company that specializes in workers compensation insurance.
A specialized insurance provider can save you money in the long run. Its experts should understand the region's work comp laws and will better equip you to avoid lawsuits associated with workplace accidents.
Support services
A valuable carrier will provide access to a specialized safety and risk management team. This team should be easy to reach with questions you have about your company safety. This might include an in-field safety professionals who visit your workplace and a support center phone line to speak with safety consultants.
Claims Management Support
A valuable carrier should have resources to help you plan for an injured employee's return to work.
Return to work: If an injury takes your employee out of commission, your insurance provider can help you plan for their return to work. This might include transitional work. An earlier return to work is associated with better outcomes for the employee and your business.
Telehealth: If an employee is injured, getting them medical care is an important step. An unwarranted ER trip to the hospital can make claim costs increase significantly, impacting your e-mod. Choose a work comp provider with services to help you make sure that any injured worker gets quick and quality care. This could be telemedicine services or a comprehensive telehealth program.