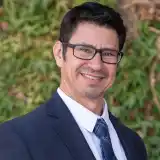 Contact Damian
Call: (719) 589-3611
Please note: coverage cannot be bound or altered online. A service representative will need to contact you to finalize your request.
About Damian
Damian is a producer with CIA-Leavitt Insurance and brings over 15 years of insurance experience to our clients at CIA-Leavitt. He is diversified in many lines of insurance. Damian has a passion for helping others and offers a wealth of knowledge that enables clients to see a unique perspective when he tailorsÕ policies to their needs. His experiences allow him to draw from many different areas to provide effective solutions for his clients. Damian is a Colorado native, graduated from Columbia School of Broadcasting and still active in radio and television as a part-time sportscast and is a recipient of numerous Colorado Broadcaster Awards. He has been an active volunteer with the Monte Vista Fire Department for 14 years and a member of the Colorado Fire Fighters Association. He's an avid outdoorman and has been a member of Ducks Unlimited for more than 15 years and served as the Chairman for the San Luis Valley Chapter of Ducks Unlimited, a national non-profit organization. Damian is involved with many charity and community organizations, he is constantly giving back to the communities in which he is involved. Damian is a devoted husband to his lovely wife Irene and he is a ÒSuper HeroÓ to his son Trevor.
---
Office details
General Office Hours
| Day | Time |
| --- | --- |
| Mon | 9:00 AM – 5:00 PM |
| Tue | 9:00 AM – 5:00 PM |
| Wed | 9:00 AM – 5:00 PM |
| Thr | 9:00 AM – 5:00 PM |
| Fri | 9:00 AM – 5:00 PM |
| Sat | Closed |
| Sun | Closed |
Please note that each staff members' office hours may differ from the hours listed above.