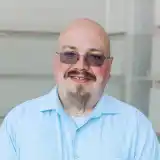 Contact Cory
(406) 443-1060 - Direct
About Cory
My favorite quote is one by Hunter S. Thompson. "Life should not be a journey to the grave with the intention of arriving safely in a pretty and well-preserved body, but rather to skid in broadside in a cloud of smoke, thoroughly used up, totally worn out, and loudly proclaiming 'Wow! What a ride!'"
I work for Leavitt Great West Insurance as a data analyst, and I love it. I'm definitely a numbers person. I work well in Excel and really enjoy coming up with new formulas to improve our reports and productivity.
In the past, I've also worked as a pricing analyst and revenue management team lead for a trucking company, as well as an analyst for Blue Cross Blue Shield of Montana. I chose to join Leavitt Group because I love their small business feel. Some of the best parts of my job are being known by name instead of employee number and having the flexibility to work from home.
Interestingly, I didn't start my professional career in data analysis. I studied aviation maintenance for two years at Northland Community & Technical College before realizing my brain doesn't work well with mechanics, but I understand numbers! I can see data trends and anomalies easily.
I grew up in a small, northwestern Minnesota town before moving to Helena, Montana, in 2010. In my spare time, I love riding my motorcycle — I put a minimum of 10,000 miles on it a year.
---
Office details
General Office Hours
| Day | Time |
| --- | --- |
| Mon | 8:30 AM – 5:00 PM |
| Tue | 8:30 AM – 5:00 PM |
| Wed | 8:30 AM – 5:00 PM |
| Thr | 8:30 AM – 5:00 PM |
| Fri | 8:30 AM – 5:00 PM |
| Sat | Closed |
| Sun | Closed |
This staff member's office hours may differ from the hours listed above.