Whether you are exploring the country full-time in your motor home or just enjoy getting away from it all on the weekends in your tent trailer, your RV is part of your lifestyle and often represents a significant investment.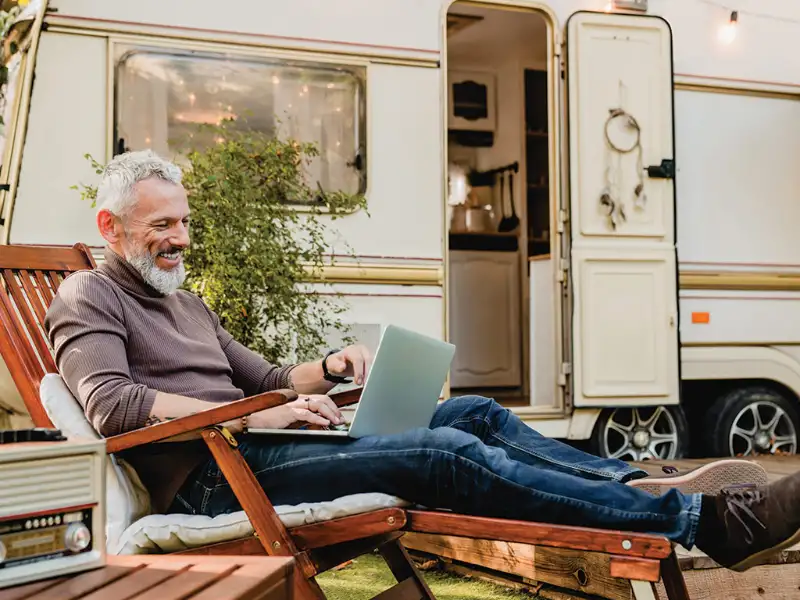 Request Quote or Contact Us
Please note: coverage cannot be bound or altered online. A service representative will need to contact you to finalize your request.
What You Need to Know About RV Insurance
Don't let the unexpected get in the way of your RV adventure
An RV is a combination of a home and a vehicle—which presents unique risks. For example, while your home obviously can't hit a deer, your motor home certainly can. Likewise, your car is not at risk for having the water pipes burst in the winter, but your trailer is. Because of these risks, an auto insurance policy just isn't enough. You need RV insurance to really protect your investment.
At Leavitt Group, we have the experience to evaluate your situation and provide you with the RV coverage that is right for you. Here are some important RV insurance options to consider:
Motor home owners are required to have limited liability coverage. Towed vehicles usually have limited liability coverage through their auto policy, but this only covers injury or damage to another person or their property. It doesn't cover you, your family, or your property. RV insurance help fills this gap.
If you are the original owner and your RV is less than five years old, you may consider full RV replacement coverage. If your RV is destroyed within the first five years, this coverage will replace it with the same model and accessories.
Collision coverage pays to repair your RV after an accident.
Comprehensive coverage insures damages not caused by a collision, such as fires, flooding, or hitting a deer.
You take a lot of your personal possessions with you in your RV. Protect your belongings with an RV insurance policy's personal property insurance.
If your motor home breaks down, towing it to a repair shop can be very expensive. Towing coverage is available on RV insurance policies.
If your RV breaks down away from home, emergency coverage can give you extra peace of mind by paying for housing and transportation expenses while your RV is being repaired.
When you are on vacation, your RV is your home away from home. Vacation home liability insurance protects you in case someone is injured in or around your RV, similar to the liability protection on a homeowners policy.
RV insurance can provide coverage for room extensions and awnings.
Full timers use their RVs as their primary residence, so they need insurance similar to a homeowners policy. Let your Leavitt Group insurance professional know how often you use your RV so you can get the right coverage for your needs.
Stay Safe and Protect Your RV
Before you go, make sure your RV is ready.
Many RV insurance claims could be avoided simply by remembering to check everything before you start traveling. Ensure awnings, antennas, steps, and other accessories are in their traveling positions. These can all do significant damage to your RV if they are not in place before you leave.
Staying home for the holidays? Winterize your RV.
If you don't plan to use your RV during the winter, prepare your RV for a few idle months. Drain the water systems, cover the tires, make sure the RV is shut tight to prevent rodents or other critters from entering, remove batteries and store them where they won't freeze, and winterize generators. These simple steps will help keep your RV protected so you won't have costly surprises in the spring.
Give your RV tires a good kick.
Make sure your tires are properly inflated. Over or underinflated tires can both be dangerous and increase the risk of tire failure. Also, check your tires for any signs of damage and get them repaired or replaced before you have problems.
Don't miss your RV check-ups.
Routine RV maintenance can save you time and problems while on the road. Check the roof, body, and bottom of the RV for cracks, leaks, or signs of damage. Check gas lines for signs of leakage. Examine the refrigerator, stove, sink, and other appliances for any signs of damage. Make sure your smoke detector is working and replace batteries regularly. Your owner's manual or RV dealership should have a complete maintenance checklist for your particular motor home, travel trailer, 5th wheel, tent trailer, camper, or toy hauler.