Please note: coverage cannot be bound or altered online. A service representative will need to contact you to finalize your request.
What You Need to Know About Executive & Professional Liability
You may know executive and professional liability insurance by another name — errors and omissions (E&O) insurance. Regardless of what you call it, this type of insurance can protect you and your company from the costly defense and settlement of claims for your errors or omissions.
What does executive and professional liability insurance cover?
Much like the name implies, errors and omissions insurance protects your business from litigation based upon any errors or accidental omissions you make, along with the failure of your work to perform as promised or intended.
It's important to remember that executive and professional liability insurance is different from general liability insurance. While they may sound similar, E&O insurance covers damages or harm that arise from your direct actions. In contrast, general liability insurance can help cover claims that your business caused injury to a third party by property damage, bodily injury, or copyright infringement.
Here are a few examples of coverages included in a professional liability (E&O) insurance policy:
Negligence
Misrepresentation
Violation of good faith and fair dealing
Inaccurate advice
Undelivered services
Missed deadlines
Incomplete work
Break of contract
What is professional liability insurance?
As a trained professional in your field, you are legally responsible for providing clients with trustworthy advice or service.
You are good at what you do, but it's important to keep yourself safe in the event an accident happens.
Additionally, you could face a lawsuit any time a client thinks you've made a mistake — regardless of if you did or not.
Protect yourself and your business from any mistakes or oversights with small business liability insurance.
Who needs professional liability insurance?
This answer can vary from person to person, but a good rule of thumb is "anyone who makes a living off their expertise."
Examples of careers that can benefit from a professional liability insurance policy include:
Architects
Engineers
General contractors
Real estate agents
Insurance professionals
Land surveyors
If you're still unsure, do a brief self-evaluation by asking yourself the following question:
Do you provide professional services or advice to other businesses or individuals?
If your answer is yes, it is strongly recommended you protect yourself and your business with an errors and omissions insurance policy.
For some professions, there are federal or state laws in place requiring professional liability insurance. The list of occupations is long, and you will likely need to do some research into your local laws to make sure you aren't violating any.
However, examples of careers with professional liability insurance coverage requirements by state include:
Government contractors
If you work on any project under a government contract, you are legally required to carry and maintain a professional liability insurance policy.
Medical professionals
This is not limited to surgeons and general physicians. Other medical professionals who may need or benefit from the specialized medical professional liability insurance include social workers, therapists, counselors, physical therapists, and pharmacists.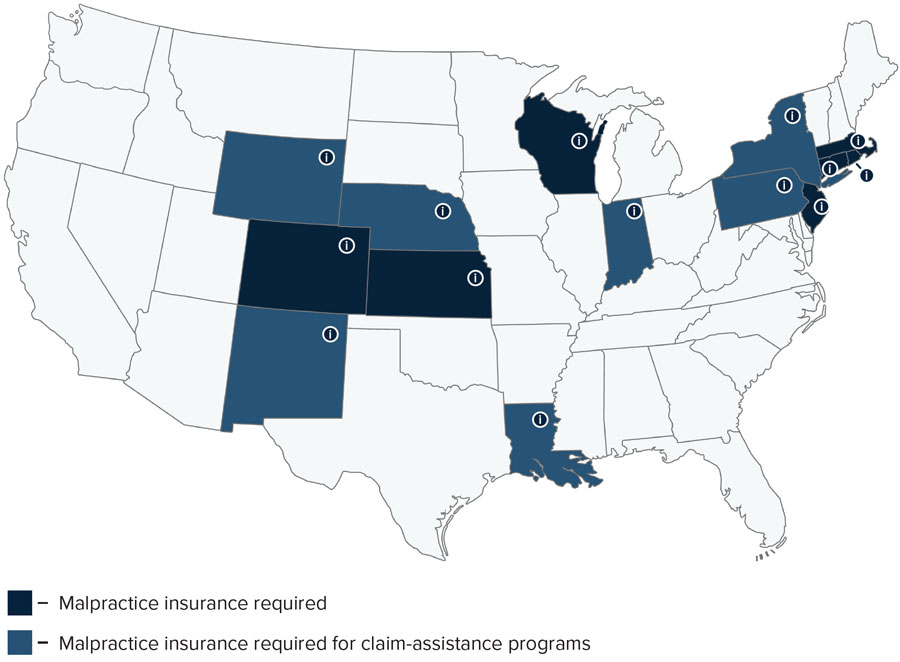 Learn more about each state's requirements for medical professionals
States that require malpractice insurance:
States that require malpractice insurance for claim-assistance programs:
Attorneys
The only two states requiring lawyers to have professional liability insurance are Idaho and Oregon. However, there are disclosure laws in place in many states requiring you to disclose whether you have insurance to clients or state bar associations.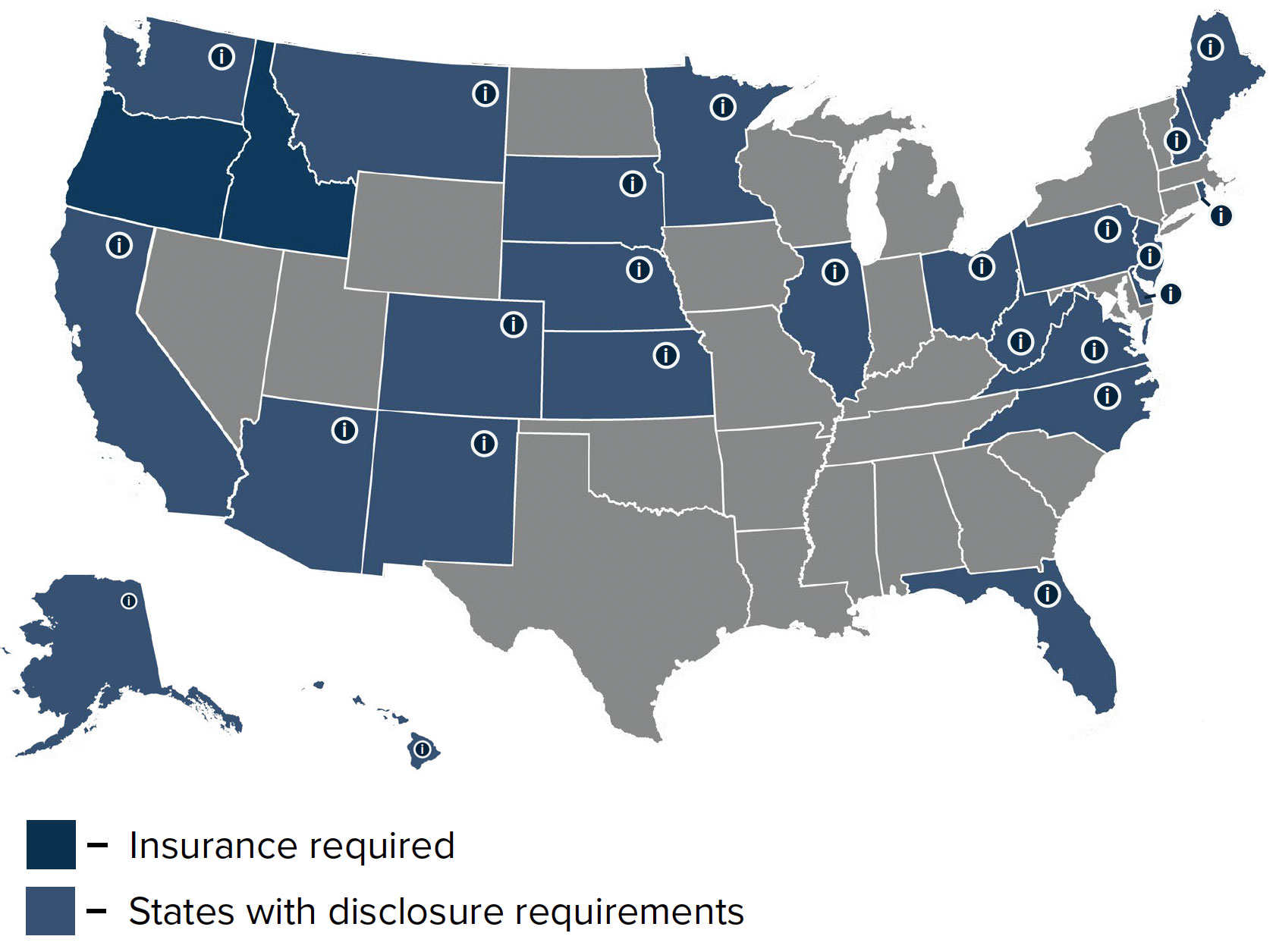 States with disclosure requirements for attorneys:
North Carolina (requires certificate of insurance)
Rhode Island (only required if attorney is practicing in corporation, LLP, or LLC
Real estate professionals
To maintain a legal real estate license in many states, you must provide certification that you carry an active errors and omissions insurance policy.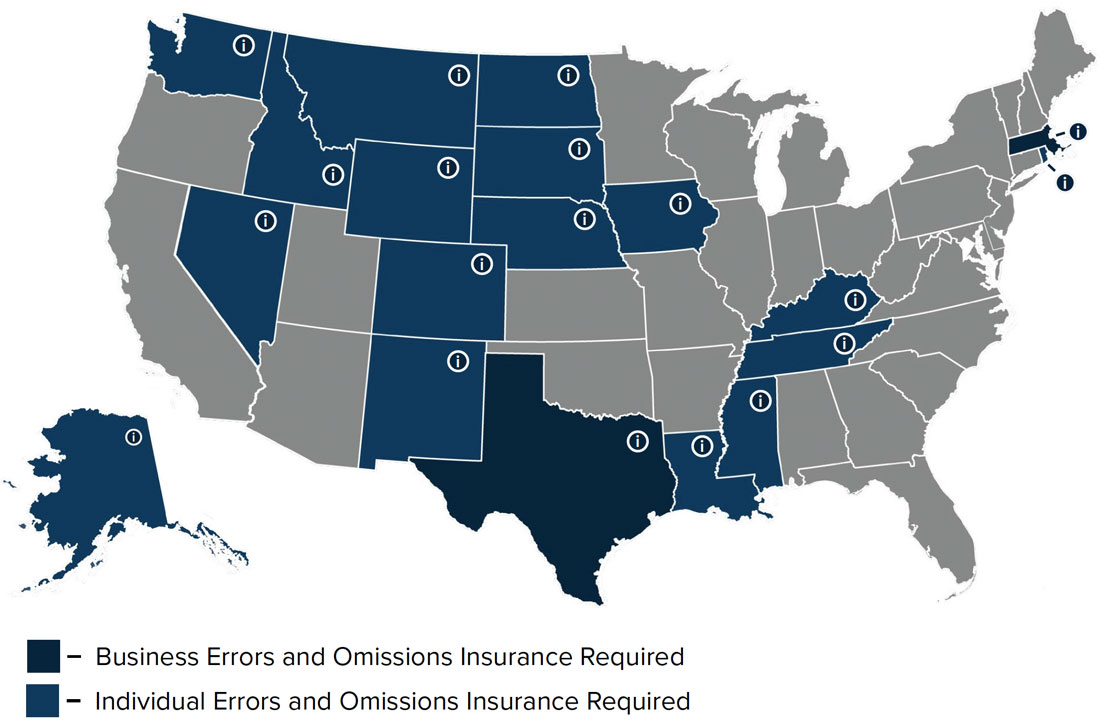 States that require business errors and omissions insurance:
States that require individual errors and omissions insurance:
What does professional liability insurance look like?
As a specialized professional, you have unique needs, and what works for one person may not work for you. Fortunately, not every professional liability insurance policy looks the same.
Claims-made and occurrence policies are the two most common coverage options. While both give you a second line of defense, they have fundamental differences.
Claims-made policies only cover a claim if both the service or advice was provided and the lawsuit was filed while the policy was active.
Occurrence policies will cover claims that take place during the coverage period, even if the treatment did not occur during the active policy.
As professionals in the field of errors and omissions insurance, we make it our business to know you and your concerns. We spend time learning and listening to better serve you, our clients.
You've worked hard to build your business. The next step is to protect it. We'll assess what your risks are and help you tailor an insurance policy for your company.
We'd love to chat with you. Contact Sorensen-Leavitt Insurance Agency today!