Our surety department works with clients to develop customized bond programs that fit each client's unique needs.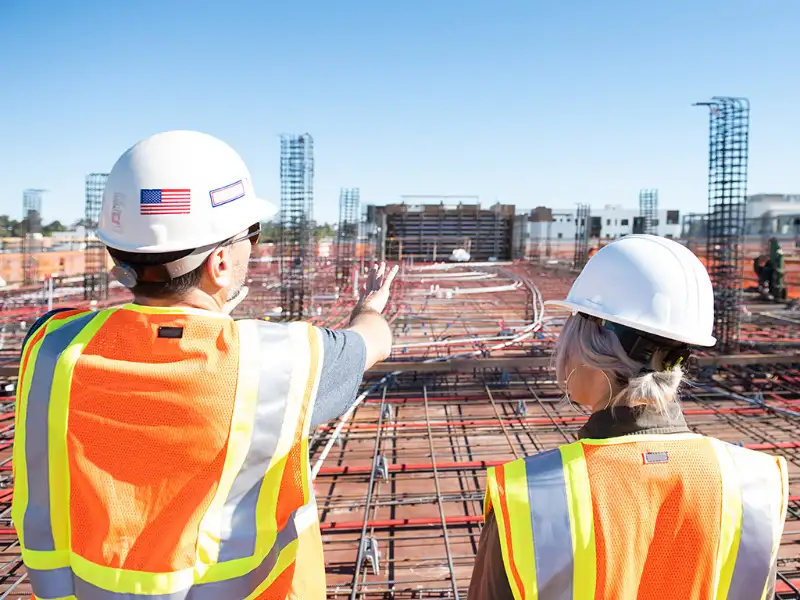 Request Quote or Contact Us
Please note: coverage cannot be bound or altered online. A service representative will need to contact you to finalize your request.
What is a surety bond?
If you've ever felt frustrated trying to figure out what precisely a surety bond is, don't worry — you're not alone. Surety bonds are confusing if you don't already know what they are. We can help you break it down.
First, don't think of surety bonds as a type of insurance. There are similarities, but the two aren't the same.
A surety bond is a contract between three parties: the principal, the surety, and the obligee.
Principal — this is most likely your role in a surety bond. Principals are the people required to meet or fulfill the terms of the contract.
Obligee – an obligee is the party or group requiring the surety bond. They want to know you, the principal, will do the work you claim you can.
Surety — the group acting as the surety carries the responsibility of guaranteeing the contract's terms are met.
Ultimately, a surety bond gives obligees a guarantee that the principal will complete the work or meet the statutes they are requiring. It may help to think of the surety as someone who is guaranteeing you fulfill your bonded obligation.
How do surety bonds work?
The surety bond process begins when an obligee requires a principal to acquire a surety bond. By doing so, the principal can show the obligee they can fulfill the obligee's project or requirement.
For example, let's say you own a construction company that's working on a government-funded contract to build a road, and you are required to provide a surety bond. In this case, your company is the principal, and the government would be the obligee. A neutral third party, in this case, a surety bond company, would evaluate your business to determine whether your company would be able to complete the project as described in the contract.
What happens if I don't fulfill the contract?
If your business is unable to meet all the contract requirements satisfactorily, then the surety company will step in to fulfill your obligations. After the surety fulfills the contract, your company — as the principal — is responsible for making the surety whole. The surety will look to you to reimburse the losses they incurred when fulfilling your obligation.
Surety bonds are issued for a set term — usually, one, two, or three years — or are set up to last until the initial contract or statute is fulfilled. They can also be extended to allow for a maintenance period if problems arise or the principal did not satisfactorily meet the initial terms.
What surety bond do I need?
The best way to find out your surety bond requirements is to contact the obligee requiring the bond and ask them directly what type of bond you need, and the dollar amount the bond needs to guarantee. Requirements vary among states, counties, and cities, so there's no one-size-fits-all answer.
What information is required for a surety bond?
Unlike standard insurance, there's a lot of documentation and information required to apply for a surety bond. The documentation required varies from bond to bond, but most companies ask for the following:
Personal and Corporate Financial Statements
Resumes for Key Personnel
References
Remember, this isn't an exhaustive list. A lot of surety bond companies have additional requirements. It may seem like a hassle to provide all this documentation but keep the bigger picture in mind. With this documentation, you're showing the surety bond company you are experienced and responsible enough to meet the contract's requirements.
What's the difference between surety bonds and insurance?
Even though you can usually purchase a surety bond through an insurance company, surety bonds and insurance are not the same. They are both forms of financial protection, but there are a few key differences.
Surety bonds ensure a commitment by the principal, and loss is not expected.
Insurance guarantees a coverage of losses and is meant to protect the consumer buying the policy.
Surety bonds require a one-time payment.
Insurance is often paid in monthly premiums.
What are the different types of bonds?
You can find thousands of different surety bonds specific to different situations. However, the bonds used most frequently are contract, commercial, court, and fidelity bonds.
Contract – generally required in the construction industry. Contract surety bonds ensure a contractor — the principal — will fulfill the contract.
Commercial – designed to ensure that licensed businesses will meet safety requirements set forth by public, legal, and government entities.
Court – meant to protect plaintiffs and defendants from fraud or financial harm.
Fidelity – helps protect businesses from losses occurring because of employee dishonesty and fraud.
Who needs surety bonds?
Generally, if you need a surety bond, you will be informed of the requirement along with any specific conditions the bond must meet. However, there are people and groups who will always require a surety bond. These people and groups may include:
Anyone applying for a license with their city or state
Construction companies working for government entities
As professionals in the field of surety bonds, we make it our business to know you and your concerns. We spend time learning and listening to better serve you, our clients.
We'd love to chat with you. Contact us today!