Contact us today to protect your merchandise and products during transportation and storage.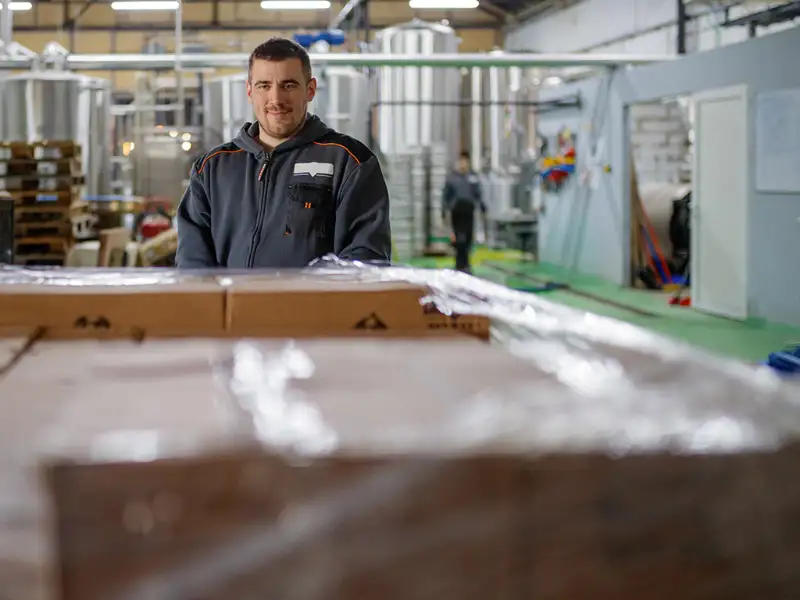 Please note: coverage cannot be bound or altered online. A service representative will need to contact you to finalize your request.
What is inland marine insurance?
Contrary to what the name might suggest, inland marine insurance doesn't have much to do with boats. The term is a holdover from the original "ocean marine" insurance when ocean shipping was predominant. As time went on and inland shipping methods developed, the original name was modified to "inland marine."
Inland marine insurance is a commercial policy that provides coverage for products, materials, and equipment when transported over land – whether by truck, plane, or freight train – or when a third party warehouses them. This protection is unique because rather than the policy being tied to a building or single location, it "floats" along wherever the insured property goes.
What does inland marine insurance cover?
Put simply, inland marine insurance coverage includes any property that can be moved, transported, or is involved in transferring information.
Examples of common risks covered by inland marine insurance are:
Theft
Fire
Wind
Hail
Water damage
Depending on the policy and your business's unique needs, inland marine may also offer coverage solutions such as:
Mysterious Disappearance – missing property where you can't discover the cause of the loss.
Accidental Drop and Damage – product is lost or damaged when it is dropped or mishandled. This loss can occur during transit, loading, and unloading.
What does commercial inland marine insurance protect?
Inland marine insurance protection includes a wide range. Some protections include:
Cargo
Computer systems and personal computers
Communications and networking equipment
Medical and scientific equipment
Photography equipment
Tools
Trade show exhibits
Do I need inland marine insurance?
It can be a little bit tricky finding out whether or not your business needs inland marine insurance. One of the best ways to figure it out is to ask yourself the following questions:
Does your company frequently move items from one location to another?
Does your business ship valuables?
Do you have to move work-specific tools to different work sites?
Do you own a company truck or car with specialized equipment?
If the answer to any of these questions is yes, you can benefit from an inland marine insurance policy.
What's the difference between inland marine and cargo insurance?
Inland marine and cargo insurance are pretty similar, but they are not quite the same. As a business owner, you want inland marine protection because the coverage applies to your items or products being transported.
Cargo insurance is targeted at people like independent truckers who are temporarily responsible for their cargo. It covers liability for cargo that is damaged or lost due to perils such as fire, collision, or striking of load. These insurance policies are maintained by the cargo worker rather than the business they are working with.
What are the different types of inland marine insurance?
Inland marine insurance comes in a few different forms. As you saw earlier, there's the standard form, and then there are a few different types of targeted policies that go by another name but still fall under the umbrella of inland marine insurance.
Some of these policies are:
Bailee's Customer Coverage – protects client property left in the care of your business
Builder's Risk – protects structures and any materials during new construction projects or renovations
Exhibition and Fine Art Coverage – covers your valuable items while they are on exhibit, in transit, or on loan
Installation Floater – protects items and materials from the moment they are loaded on a truck until they are put to use or installed
Motor Truck Cargo Coverage – covers your clients' goods while your business or truck transports and delivers them
Contractor's Tools and Equipment – protects mobile tools and equipment less than five years old and worth less than $10,000
Does inland marine have a coverage limit?
Inland marine insurance does have a coverage limit, which means your insurer will only reimburse you up to the limit stated in your policy. However, you can choose the limit. If your equipment is less expensive, you can select a lower limit and pay a smaller premium month to month. In reverse, if your equipment is more expensive and you want it protected fully, you can choose a higher limit and pay a larger premium month to month.
It can be difficult—even frustrating—finding out exactly what coverage you need to best protect yourself and all the hard work you've put into your business. This is where we can help.
As professionals in the field of inland marine insurance, we make it our business to know you and your concerns. We spend time learning and listening to better serve you, our client.
You've worked hard to build your business. The next step is to protect it. We'll assess what your risks are and help you tailor an insurance policy for your business.
We'd love to chat with you. Contact an inland marine insurance agent near you today! 
Frequently Asked Questions