There's nothing better than life on the river, and you are passionate about sharing it with your guests. You take pride in giving them a quality experience from start to finish, accommodating their needs, and providing high-quality equipment.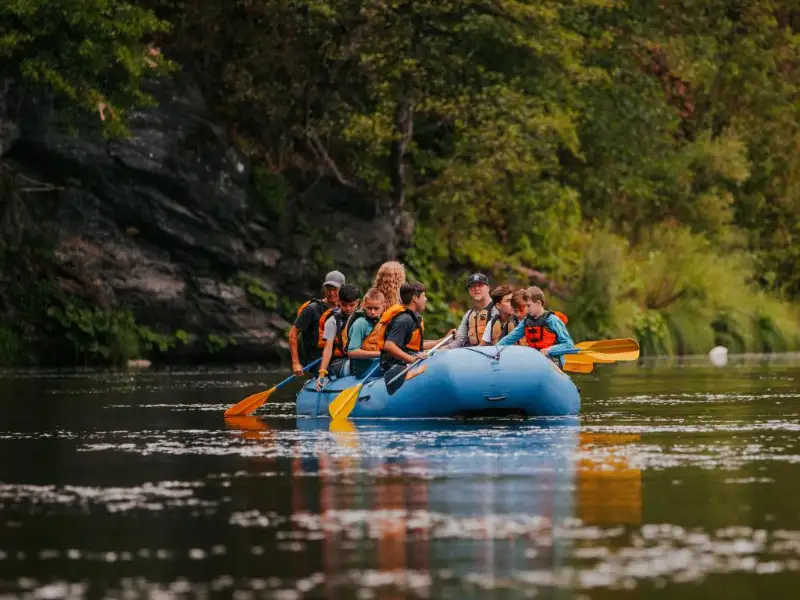 Please note: coverage cannot be bound or altered online. A service representative will need to contact you to finalize your request.
What You Need to Know About Rafting Insurance
Do I need rafting outfitter and guide insurance?
Do you rent rafts or give rafting lessons? Do you guide clients across waterways or downriver? Or are you hosting a special event that includes rafting? If yes, you should consider purchasing a rafting insurance policy. Rafts present unique risks that need to be covered by a general liability insurance policy. We can help you tailor an insurance policy to protect your rafting business and ensure your guests are protected in the event of an accident.
What type of rafting insurance do I need?
The exact coverage you need will vary based on your business's operations. However, some types of insurance can benefit almost every rafting business.
General Liability – Protects your company against bodily injuries, property damage, product damage, and more.
Commercial Auto – Even if you use a personal vehicle for work, a personal auto insurance policy doesn't cover the car while it's used for work purposes.
Watercraft and Boat Liability – Can cover costs for boat repair or replacement, damage to someone else's property, and medical bills when people are injured.
Retail Property Coverage – Offers commercial structures, business personal property, and machinery protection.
Inland Marine Equipment Coverage – You can protect stored equipment in an off-site location and any equipment you're transporting.
Workers Compensation – If any employees are injured or become ill on the job, this insurance can cover the payment of their medical expenses, lost wages, and rehabilitation costs.
What risks does rafting insurance cover?
Even if your guests have signed a waiver, you risk a lawsuit or liability claim if something goes wrong on your excursions. We provide coverage solutions for a variety of exposures faced by white water rafting outfitters and guides, including:
Equipment rentals
Guided water trips
Office/facility for rental purchases and instruction
Equipment storage areas
Transportation to and from the water
Food and beverage concessions
Instruction
Camping
Hiking
Retail sales
How much does rafting insurance cost?
Every rafting insurance policy is unique, meaning every policy premium will also be unique. Because there's so much variation between rafting businesses, there's no precise estimate for your premium. However, we can tell you what factors may influence how much you pay.
Your business's location
Claims history
Size of your operation
Number of employees
Your chosen deductible
Amount of coverage you choose
No matter the size of your business or the services you provide, we will ensure your business has the right coverage for your needs.
You've worked hard to build your rafting business. The next step is to protect it. We're happy to help you identify your needs and provide solutions to protect them.
I'd love to chat with you. Contact me today!
Frequently Asked Questions