Do you need flood insurance? Learn more below.
Flooding can occur anywhere it rains, every homeowner should consider purchasing a flood insurance policy.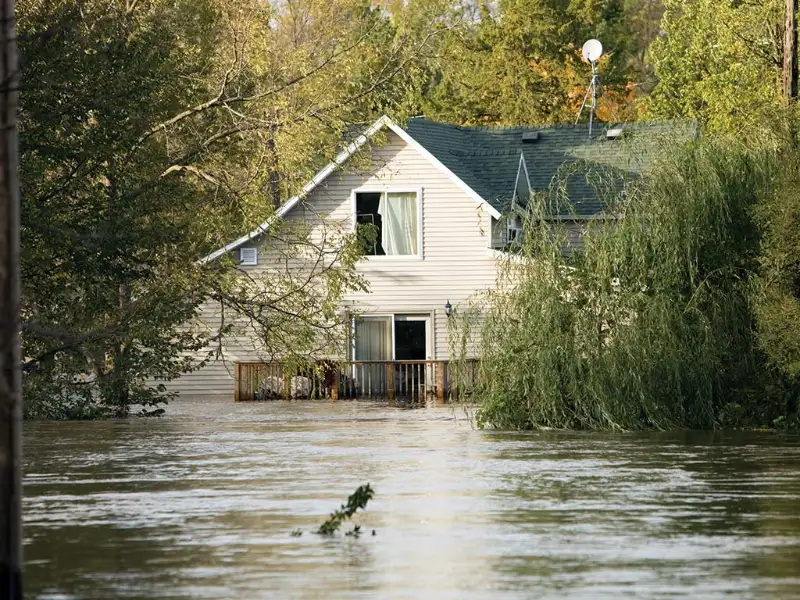 What You Need to Know About Flood Insurance
Standard homeowners and renters insurance policies do not cover flooding! Since flooding can occur anywhere it rains, every homeowner should seriously consider purchasing a flood policy.
Flood coverage is available as a separate policy from the National Flood Insurance Program. It is available for renters as well as homeowners, and it can help pay for the devastating effects of flood damage to your home's structure and contents.
Do I Need Flood Insurance?
Even if your home is not located in a high-hazard flood zone, you are still at risk. Snow melt, poor drainage systems, and saturated ground are common and often overlooked causes of flooding. New land developments can increase flood risk, especially if the construction changes natural runoff paths. The following conditions can also cause flooding and may increase your risk of damage if they occur in your area:
Tropical Storms and Hurricanes
Tropical storms and hurricanes are powerful and can completely devastate entire communities when they hit. Along with damaging properties along the coast, these storms bring torrential rains and high winds which can cause floods hundreds of miles inland. If you have property in an area that is prone to hurricanes you should purchase flood insurance.
Heavy Rains
Excessive amounts of rainfall can happen anytime during the year anywhere in the United States. Heavy rains can cause cresting rivers, backed-up storm drains, overflowing or broken dams and levees, and saturated ground. Excess water can settle in and around your property causing immediate damage.
Flash Floods
Flash floods are rapid flooding of low-lying areas in a short period of time. This is typically caused by heavy rainfall from a thunderstorm or multiple thunderstorms. Flash floods can also occur when a man-made dam or levy fails. Flash floods are extremely dangerous and can move boulders, tear up trees, and destroy bridges and structures.
Mud Flows
These are rivers of loose soil and water on the surface of normally dry land. They are often caused by a combination of loss of vegetation and heavy rains. Mudflows can also happen when the ground becomes saturated from long periods of heavy rainfall or spring thaw. Even homes located on a higher ground can be hit by mudflows.
Post Fire Conditions
Floods after a fire are common in many areas in the western states due to wildfires. Ground that has been charred after a wildfire cannot absorb rainwater, increasing the risk of flooding and mudflows.
Am I Eligible For Flood Insurance?
You are eligible to purchase a flood insurance policy as long as your community participates in the National Flood Insurance Program (NFIP). If you live in a Special Flood Hazard Area (SFHA) or high-risk area and have a federally-backed mortgage, your mortgage lender requires you to have flood insurance. In a high-risk area, your home is more than twice as likely to be damaged by flood as by fire. Don't wait for a flood season warning on the evening news to buy a policy—there is a 30-day waiting period before the coverage takes effect.
Private flood insurance is also available for those who need additional insurance protection, known as "excess coverage," over and above the basic policy, or for people whose communities do not participate in the NFIP.
Though you may not be required to hold flood coverage based on your geographic location, this is still important to purchase a flood policy. Remember, standard homeowners and renters insurance policies do not cover flood damage.