Your hospitality business takes great care of your patrons. Its time you have the right insurance to take care of your business's unique needs and risks.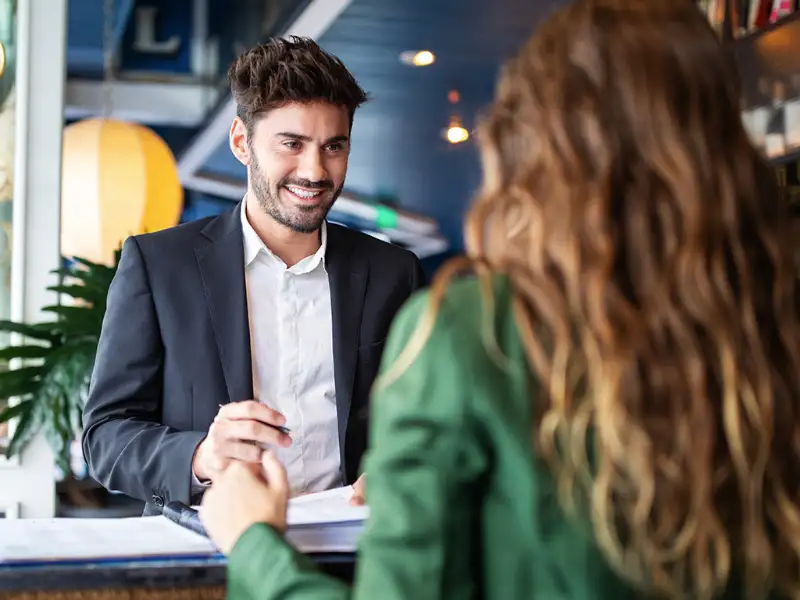 Request Quote or Contact Us
Please note: coverage cannot be bound or altered online. A service representative will need to contact you to finalize your request.
What is hospitality insurance?
At first glance, the term hospitality insurance can seem very intimidating. Especially considering there are four broad areas included in hospitality: food and beverage, travel and tourism, lodging, and recreation.
However, hospitality business insurance is much simpler than it sounds. Typically, it refers to insurance covering hotels, motels, restaurants, and bars.
What types of insurance are important for the hospitality industry?
Your business, its needs, and its risks are unique – just like you. The coverage that best suits your business may vary from someone else's, but there are coverages everyone with a business in the hospitality sector should consider. These include:
Liquor Liability
If your business sells, serves, or distributes alcohol, you need liquor liability insurance. It can protect you against legal costs, property damage, medical bills, and drunk driving claims that may arise after your business serves or sells alcohol to a customer.
Innkeeper Liability
If your business provides lodging for guests, then innkeeper liability gives you coverage for the safekeeping of your guests' personal belongings while they are on your business's property. Keep in mind that liability statutes vary from state to state, so what is considered a liability in one state may not be a liability in another.
Food Spoilage
This coverage protects your business against the cost of spoiled food resulting from an accepted event, such as a prolonged power outage or the failure of food storage equipment. A food spoilage policy may be able to reimburse you for expenses such as replacing spoiled or contaminated food, professional cleaning of equipment, and advertising to help your business restore its good reputation.
What other hospitality coverages should I consider?
Hospitality insurance isn't limited to liquor and innkeeper liability and food spoilage insurance. There are many other coverages that can protect you if something goes wrong. Some additional coverages you should consider for your hospitality business are:
Workers Compensation – provides coverage for medical expenses, rehabilitation costs, and lost wages for employees who are injured or become ill at work.
Medical – If you employ more than 50 people full-time, you need medical insurance. However, if you do not employ more than 50 full-time workers, then medical insurance is not required.
Commercial Auto – insures vehicles that are owned, leased, hired or borrowed by businesses, whether they are associations, corporations, partnerships, or sole proprietorships.
Commercial Property – may include coverages such as builders risk, business income, extra expense, legal liability, and building and personal property.
General Liability – covers the cost of property damage or bodily injury that occurs on your business property or as a result of your products, services, or advertising.
Cyber – may cover actual costs associated with a data breach, liability for privacy breaches, asset recovery, business interruption costs, and costs associated with reputation management after a data breach.
Employment Practices Liability – coverage for claims by employees stating that their legal rights as an employee of the company have been violated.
Umbrella – provides additional liability insurance that goes into effect when a claim exceeds the limits of an associated policy.
How much does hospitality insurance cost?
Unfortunately, there's no single estimate. You run a unique business with lots of different factors affecting your premiums. These factors include:
Your business's location
Additional services and activities offered
Square footage of your hospitality business
Presence of a pool
The type of food and drink you serve
How long your business has existed
Your hours of operation
The age of your building
Number of employees
Type of fire and security systems
As professionals in the field of hospitality insurance, we make it our business to know you and your concerns. We spend time learning and listening to better serve you, our clients.
You've worked hard to build your business and serve the general public. The next step is to protect it. We'll assess what your risks are and help you tailor an insurance policy for your business.
We'd love to chat with you. Contact us today!