Protect Your Off-Road Adventure Business
You love the great outdoors, and you take pride in giving your ATV customers the opportunity to experience the fun and excitement of a day out on the trail. You work hard to ensure you have high quality equipment, and you keep it in good working order.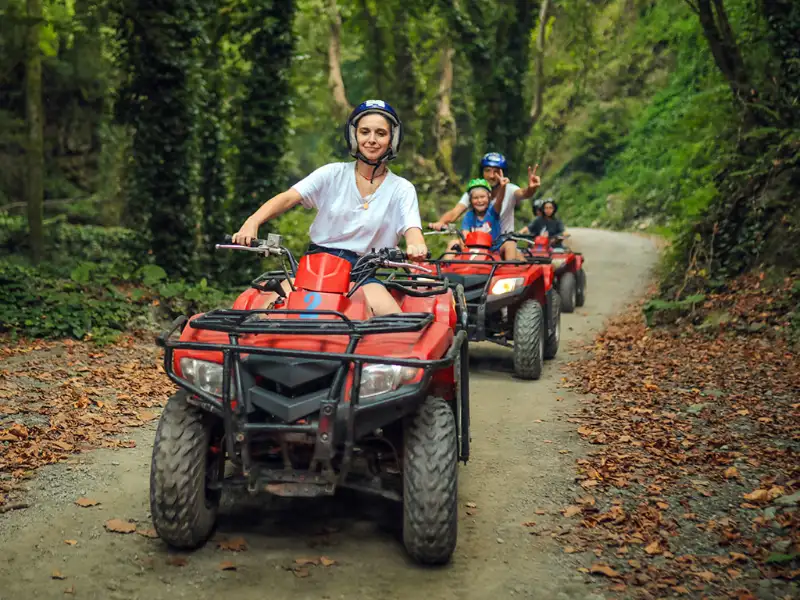 Contact us today
Call: (800) 525-2060
What You Need to Know About ATV Rental Business Insurance
Protect Against the Unexpected
Accidents can happen despite your best efforts to maintain equipment, train your employees, and emphasize safety with your rental customers. And when things go wrong, you could easily end up as the victim of a lawsuit.
You can protect against these risks by inspecting all equipment, ensuring your ATV guides have proper instruction and certification, having a comprehensive safety program in place, and carefully instructing your riders and drivers. Having the right insurance is also key for protecting your business.

Having the right ATV insurance coverage for your business
Even if your guests have signed a waiver, you are still at risk of a lawsuit or liability claim if something goes wrong on your guided tours and/or excursions. We provide coverage solutions for a variety of exposures faced by off-roading, including:
Equipment rentals
Office / facility for rental purchases and instruction
Equipment storage areas
Tours and guiding
Camping
Coverage Options
We can tailor a policy to fit the unique needs of your business; here are the types of coverage you'll want to consider:
Collision protection—This is the most important insurance component. Driving off-road means your guests will be at risk of hitting rocks, trees, fences, and other debris. Get a policy that covers off-road collision damage to your unit.

Bodily injury protection—The same can be said for bodily injury. Driving off-road can be risky, so have a policy in place that prevents you from being liable should a guide, passenger, or bystander be injured from off-road driving.
Property damage—Property damage is also a major risk of off-road driving. Have coverage that will handle the costs if you damage someone's land, vehicle, or other property.
Other coverage options include the following:
Renters liability
Commercial general liability
Personal liability
Commercial automobile
Fleet insurance
Commercial property
Guest property
Accident
Business interruption / extra expense
Crisis response
Employment practices liability
Employee dishonesty
Cyber liability
Theft
Umbrella
Workers compensation
Offering the safest off-roading options will help to keep your rates as affordable as possible.
Other factors that influence the cost of insurance include alarms, low-mileage vehicles, older models, and a safe driving record. Consider offering off-road vehicle rentals with some of these features, so you can save money otherwise spent on this type of specialty insurance.
Getting around on an ATV, UTV, Slingshot, RZR, snowmobile, or other off-road vehicle combines sport and adventure. Finding the right combination of off-road insurance coverage for your business (depending on your location) is key for these unique vehicles.
Getting the right coverage with Leavitt Recreation & Hospitality is just a form fill or call away. Let us work up a plan for you and the difference will be clear. We'd like to earn your business and your trust. Contact us today!