What is Additional Insured Status?
Additional insured status refers to an endorsement that can be added to an insurance policy to extend coverage to a third party, such as a landowner.
This endorsement is typically sought after by landowners who allow outfitters, guest ranches, campgrounds, and resorts to operate on their property with the assumption if an accident or injury occurs on the landowner's property, the outfitter's insurance policy would be the one to respond to the claim and handle any corresponding lawsuits. By doing so, they can help ensure the landowner will not be held responsible for any damages or losses that may occur during the operating entity's work.
While additional insured status can provide a great deal of protection for the landowner, it's important to understand certain requirements need to be met for the carrier to offer this coverage to any additional insured landowners.
"Standard forms require that there is a contract in place between the operator and the landowner for the additional insured status to be granted."
You may already have a personal insurance policy in place and allow outfitters and guides on your property; however, it is essential to review the insurance company requirements on the policy for this additional insured status.
Let's use an example to help explain. John Doe Outfitters (fictional operation for all intents and purposes) is hunting on your land. He provides you a certificate of insurance stating John Doe does in fact have an insurance policy and it does in fact list you as additional insured. But what about the insurance company requirements for this status? If the insurance company is one of the more well-known companies – Philadelphia, McNeil, Blue River, NFP, Secura, K&K – then they write on standard ISO forms. These standard forms require that there is a contract in place between the operator and the landowner for the additional insured status to be granted.
Ok, don't let me lose you here with the insurance talk. It's dense, but let's break this down further with the exact verbiage from a standard ISO policy for an outfitter and guide.
ISO Form CG 20 43 12 19
ADDITIONAL INSURED – AUTOMATIC STATUS WHEN REQUIRED IN WRITTEN CONTRACT OR AGREEMENT
This endorsement modifies insurance provided under the following:
COMMERCIAL GENERAL LIABILITY COVERAGE PART
A. Section II – Who Is An Insured
is amended to include as an additional insured any person(s) or organization(s) for whom you have agreed in writing in a contract or agreement that such person(s) or organization(s) be added as an additional insured on your policy. Such person(s) or organization(s) is an additional insured only with respect to liability for:
"Bodily injury" or "property damage" not included in the "products-completed operations hazard"; or
"Personal and advertising injury".
caused by, in whole or in part, your acts or omissions or the acts or omissions of those acting on your behalf in the performance of your operations
So here it states the additional insured status is only granted if there is a written contract in place between the landowning entity and the operating entity. This is very important to note if an accident occurs on your property while the guide is out hunting the outfitters policy would not respond to lawsuits brought in the name of the landowning entity. Without a contract in place, there is a definitive gap in coverage for landowners.
Please review the full policy for anyone operating on your property to ensure compliance in regard to the additional insured status.
The below is an example only of a contract that may satisfy the insurance company's requirement for the additional insured status. I repeat, this is an example only. Please consult an attorney, your insurance agent, and/or the company on the insurance policy in question as to the exact verbiage needed to satisfy the requirements.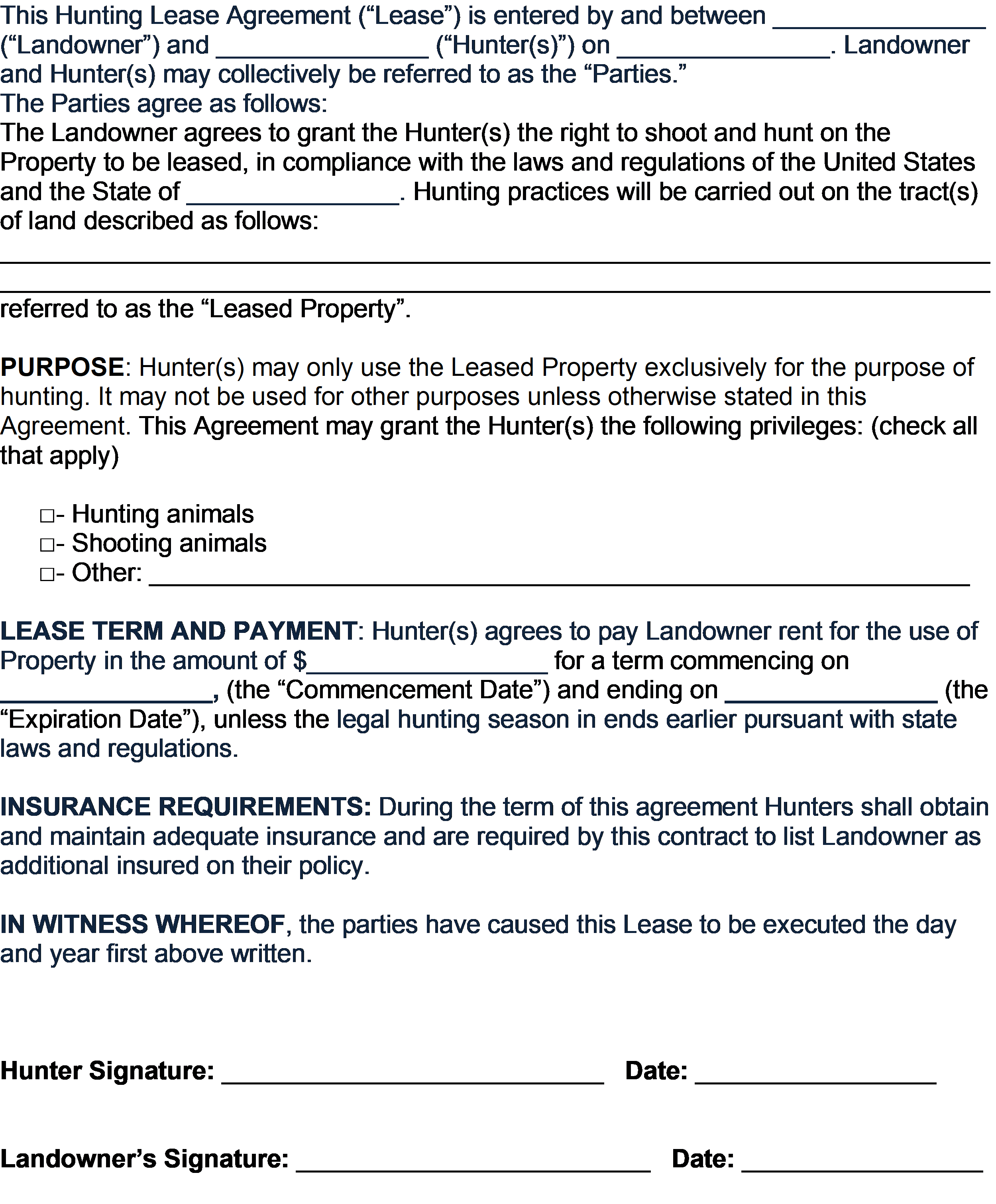 It might be easiest to have the landowners sign an appropriate contract and send a picture of the contract to insurance agent or account manager to keep on file.
If you have any questions, please feel free to reach out to me directly and I'll point you in the right direction.