What is classic car insurance?
Like the name describes, classic car insurance is insurance designed specifically for classic cars. Most classic vehicles don't get the same use and treatment as everyday cars, which is reflected in a classic car insurance policy.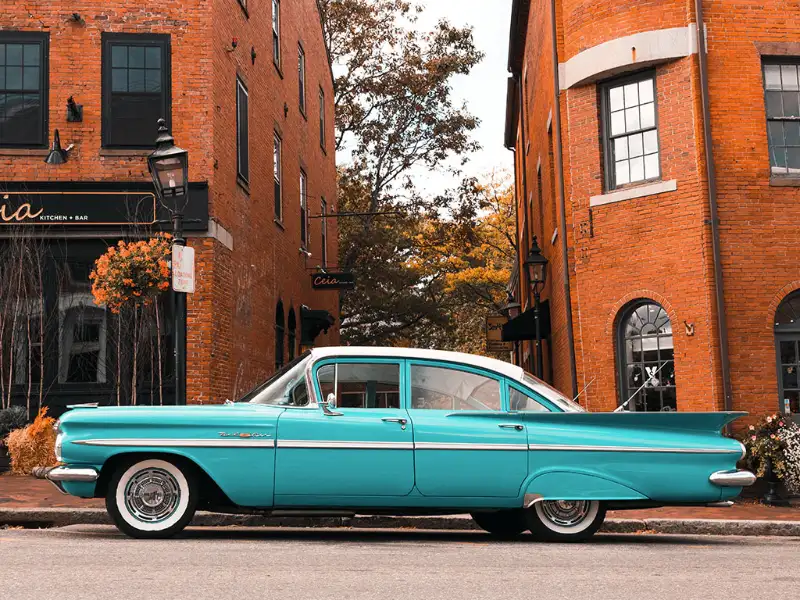 Contact us today
Call: (833) 256-7177
Please note: coverage cannot be bound or altered online. A service representative will need to contact you to finalize your request.
What You Need to Know About Classic Car Insurance
What cars are considered classic for insurance?
There are two standard terms used in insurance to define what qualifies as a classic vehicle. The two terms are "classic" and "antique."
Classic — Vehicles that are 10 to 24 years old and have historical interest.
Antique — Vehicles that are 25 years or older and have historical interest.
It's also important to note that most insurers require the vehicle to be restored (or currently undergoing restoration), maintained, and preserved in its original condition.
How much does it cost to insure a classic car?
One huge positive about classic car insurance is that it costs much less than most people first think. On average, policies range from $200 to $600 per year, where a typical car insurance policy costs approximately $1,592 per year.
The lower prices may come as a surprise at first, but they make sense the more you think about it. For the most part, classic cars don't get the same intense use as most personal or commuter vehicles. Generally, antique vehicles are also taken better care of because they are older, and most people consider them a showpiece.
Overall, claims are less likely to be filed for an antique or classic car than a standard everyday vehicle.
How do I insure my antique car?
Purchasing car insurance for collectible cars can get a little complicated. First, your antique or classic car is insured based on the agreed-upon value of the car. This type of coverage is different from the traditional stated value coverage found in typical car insurance policies.
Agreed Value Coverage — The total insured amount of the vehicle is covered. Depreciation is not considered, and all sales taxes are covered in the case of a covered total loss. You and the insurer agree on the initial value, which may be adjusted through the insurance company when any modifications are made.
Stated Value Coverage — In the case of a covered incident or loss, your insurer has the right to pay the less expensive of either your vehicle's depreciated cash value or for the replacement of the vehicle.
Some insurers may also require you to follow strict restrictions before agreeing to insure your classic car. Some examples of these restrictions include:
Only eligible drivers listed on the original policy may drive the vehicle.
You must store the vehicle in a covered location that keeps it protected from risks such as inclement weather, vandalism, and theft.
Use of the vehicle is limited to certain times of the day or to limited events such as pleasure driving, car shows, exhibitions, and parades.
Limited miles that you may drive per year in the classic or antique vehicle.
Like traditional car insurance, an insurance company will also require your age and a record of your driving history.
As professionals in the field of classic and antique car insurance, we make it our business to know you and your concerns. We spend time listening and learning to better serve you, our clients.
You take excellent care of your collectible car. The next step is to protect it. We'll assess your risks and help tailor an insurance policy for your antique or classic car.
We'd love to chat with you. Contact us today!