Leavitt Group can tailor insurance coverage within your budget and risk tolerance with our Food & Beverage Program.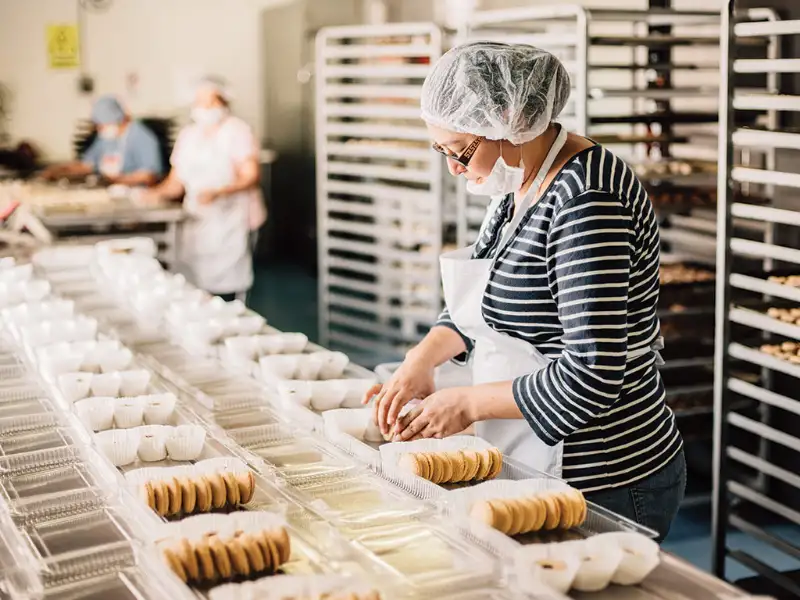 Please note: coverage cannot be bound or altered online. A service representative will need to contact you to finalize your request.
What You Need to Know About Our Food and Beverage Program
Direct Access To Insurance Underwriter
This program provides our food and beverage clients with direct access to our insurance underwriters. Our in-house underwriting team will work closely with you, tour your facilities, and review your risk management objectives to understand your unique circumstances and business needs. This interaction enables us to tailor insurance coverage within your budget and risk tolerance.
Underwriting Authority
Leavitt Group has been granted underwriting authority up to $50 million limits per policy. Using this authority, we have designed and own the copyrights to several coverage enhancements that we are able to offer to clients who qualify. A partial list includes:
Coverage for criminal strict liability defense with limits up to $10 million per company and employees of such companies;
Coverage for your customer's expenses related to their crisis consulting expenses they incur following a contaminated product you sold them;
Coverage for professional service fees you incur following a contaminated product loss.
Additional Coverage Offerings
In addition to our in-house underwriting authority, we also access capabilities from every major insurer and a large number of regional insurers in the U.S. We supplement their offerings with several insurance coverages, some of which we designed, to address your exposures. We tailor insurance policies to work in concert with other policies to achieve your risk management objectives.
Strategic Partner Network
We are members of a strategic partner network of independently owned companies providing various services to food companies. Network members include supply chain management, track and trace, food lobbying, plant sanitation experience, law firms to design and review risk transfer in contracts, banks and private equity, forensic accountants, and crisis response.
We are often able to use the information and experience within our partner network to enhance loss control knowledge to improve insurable risk. This can result in insurance premium credits we can offer our clients.
We have teamed with Leavitt Partners, whose staff has held senior roles at the U.S. Department of Health and Human Services, the Food and Drug Administration (FDA), and the U.S. Department of Agriculture (USDA). This team is internationally recognized for their food safety experience. For more information about Leavitt Partners, please visit leavittpartners.com.
Frequently Asked Questions
What is food manufacturing insurance?

Food manufacturing insurance covers a wide range of policies available to help protect against the risks faced by food and beverage manufacturers and bakeries. There isn't a single bakery insurance policy that covers your entire range of risks instead, policies are tailored to fit the specific needs of your company! Your business is unique, which means your insurance needs to be unique as well. There are coverage options for every type of food manufacturer or processor you can imagine. Some examples include:

Commercial Bakeries
Dairy Processors
Grain Millers
Meat Processors
Nut Hullers
Pasta Manufacturers
Poultry Processors
Frozen Food Manufacturers
Breweries
Confectionaries

What insurance do bakeries and food processors need?

The exact coverage you decide on will vary based on your business's needs and risks. However, a few types of food manufacturing and bakery insurance coverage we recommend including the following:

General Liability
Commercial Property
Bakery Manufacturing Insurance
Bakery Equipment
Equipment Breakdown
Spoilage Coverage
Workers Compensation
Commercial Auto
Our Approach
Many food and beverage companies have already discovered significant value available through the Leavitt Food and Beverage Program.
Risk Analysis Process
Our clients embrace our risk analysis process and enjoy working directly with us as their underwriter and agent for other policies where we work as their agent.
Customized Coverage
Our clients appreciate having the ability to tailor their own insurance program and to only pay for coverage they need.
Closing Gaps in Coverage
Our clients appreciate insurance design where policies dovetail to close gaps in coverage or improve coverage terms.