Protect yourself against your specific ATV risks.
Our professionals can help guide you through the unique coverage that ATVs require.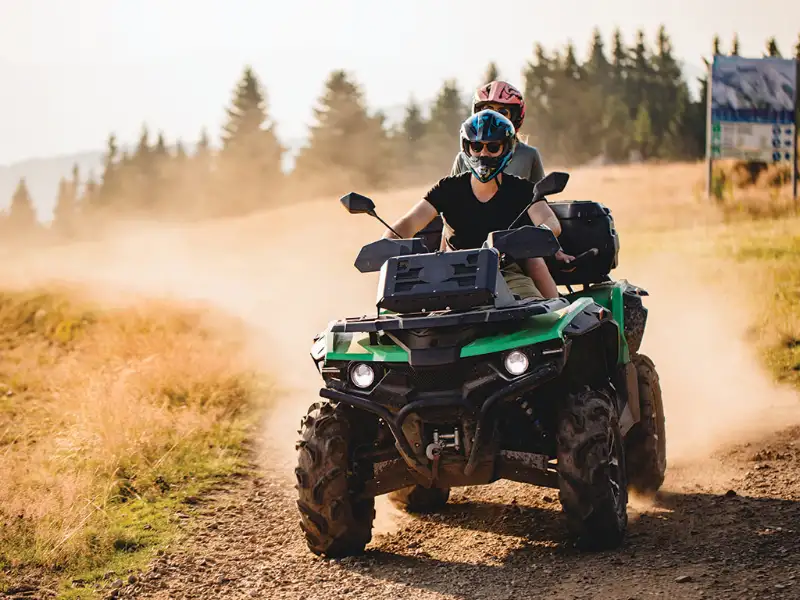 Request Quote or Contact Us
Please note: coverage cannot be bound or altered online. A service representative will need to contact you to finalize your request.
What You Need to Know About ATV Insurance
When you use your ATV to go for a ride on those backcountry trails, discover the best hunting spot, or head across the field on your farm, you can rest assured that you have the insurance protection you need should an accident occur.
Our professionals can help guide you through the unique coverage that ATVs require so you can relax and enjoy your adventure—you'll know you are covered properly while paying great, low rates on your ATV insurance.
Many people think their homeowners policy will provide the protection they need for their ATV activities, but a homeowners policy is simply not enough. The coverage provided by a homeowners policy may limit your coverage to liability, or it may only cover your ATV if you drive it on your property. You need coverage that can go everywhere you venture and protect you against your specific ATV risks.
Some of the key insurance coverages for ATVs:
Liability Coverage
Liability insurance is often required to drive on public or state lands. ATV liability insurance covers damage to someone else's property or if someone else is injured. ATV liability insurance, however, doesn't cover injury or damage to you or your property.
Collision coverage
ATVs can go almost anywhere—unfortunately, those "all terrain" moments sometimes end in a collision. If an accident does occur, you'll be glad you had collision insurance. Collision insurance covers damage to your ATV that affects the operation or safety of the vehicle. It does not typically cover cosmetic damages.
Comprehensive coverage
If your ATV is damaged by something other than a collision--such as a fire--comprehensive insurance can provide coverage for that damage. It can also cover permanent accessories attached to your ATV.
Uninsured or underinsured motorist coverage
If your ATV is hit by someone without insurance, uninsured coverage will help--up to your coverage limit.
Medical payments coverage
ATVs can be dangerous. There were an estimated 115,000 ER visits from ATV injuries in 2010. ATV medical payments coverage pays for necessary medical treatments as a result of an ATV accident, no matter who is at fault, up to your coverage limits.
Additional Considerations
Here are some other considerations that your Leavitt Group agent can walk you through as we put together an ATV policy that is right for you:
Some states require ATV liability insurance to ride on state-owned or public lands.
If you tow your ATV, make sure you understand your insurance policy and know what will be covered in case something goes wrong. Sometimes car insurance policies cover towed vehicles, though the coverage is limited to liability only. A policy on your trailer may be necessary to cover damages to your ATV while in transport.
Know your state's regulations for insurance, safety, registration, and use. Different states have different laws regarding the age of riders, when and where ATVs can be used, and whether or not insurance or registration is required.
ATVs are designed for one rider. Multiple riders make controlling the ATV difficult, and the passenger doesn't have a safe way to stay on. Unless your ATV is specifically built for two, do not allow passengers.
If you allow children under 18 to use ATVs, ensure they are using an ATV appropriate for their size, that they have been properly trained, and that they are wearing appropriate safety gear. Always supervise children on ATVs.
Never drink or use drugs while operating an ATV.
Remember that an ATV is a vehicle. Only travel at speeds that are safe for your experience levels, as well as the road conditions.
Let your agent know if you use your ATV for commercial use or for racing. Your coverage needs will vary.
Wear ATV-approved helmets that are properly fitted, as well as other safety gear such as goggles, boots, gloves, pants, and long-sleeved shirts.
Take ATV training classes. Visit

www.ATVSafety.gov

to learn about state regulations or to find a training course in your area.