Habitational Insurance
Phoenix
Habitational insurance is beneficial because it protects not only the commercial residential property, but it can protect interior furnishings as well.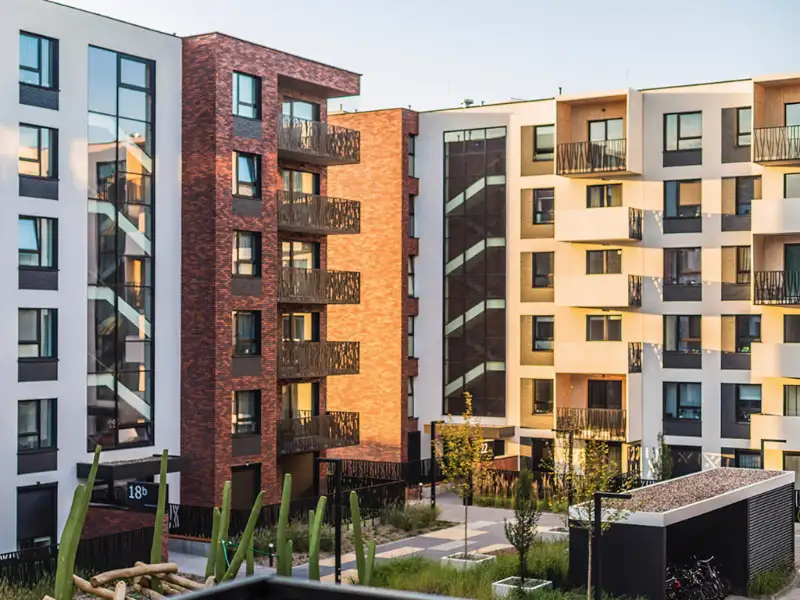 Request Quote or Contact Us
Call: (602) 264-0566
Please note: coverage cannot be bound or altered online. A service representative will need to contact you to finalize your request.
What is habitational insurance?
At first glance, habitational insurance may sound like another term for home insurance, but it isn't. You may have also heard this type of insurance referred to as landlord insurance. Regardless of what term you use, habitational insurance can protect you as an owner of a commercial residential property. If you rent out homes, apartments, boarding houses, condos, hotels, or other types of residential properties, habitational insurance is for you.
Habitational insurance is beneficial because it protects not only the property, but it can protect interior furnishings as well.
Your commercial residential property is unique, and you can tailor a policy to reflect its unique needs. Some habitational coverage options include the following:
General liability — covers the cost of property damage or bodily injury that occurs on your business property or as a result of your products, services, or advertising.
Wind, fire, and storm damage — if your property is damaged or destroyed by wind, fire, or a storm, this coverage can help you cover significant expenses. Depending on your area, you may also consider earthquake and flood coverage.
Vandalism and theft — vandalism often requires its own separate coverage as it can be extensive and expensive to repair. You may also be responsible if one of your resident's property is stolen while it is on your business's premises.
Signage — Outdoor signs may not be covered by a typical habitational insurance policy. Signage coverage can cover damage done by inclement weather, fire, vandalism, and theft.
Equipment breakdown — Expensive equipment and appliances like central AC units and fridges may suddenly break. Equipment breakdown coverage will help if you aren't able to afford the sudden replacement of integral equipment.
Environmental cleanup — if any of your tenants are injured or become ill due to pollutants like mold in your property, then you may be faced with litigation. Environmental cleanup coverage can cover cleanup costs and bodily injury.
Who needs a habitational insurance policy?
Habitational insurance is essential for anyone who owns and operates a commercial residential property, regardless of how many tenants you have.
Examples of properties that qualify for habitational insurance include:
Condos
Student Dormitories
Townhomes
Boarding Houses
Apartments
Rental Homes
Hotels
Timeshares
B&B's
How can I reduce my risk as a landlord?
Maintaining an active insurance policy is important, but you can also reduce your habitational insurance risks to keep your premiums down. The top risks you need to be aware of are fire, swimming pools, water damage, slips and trips, and playgrounds.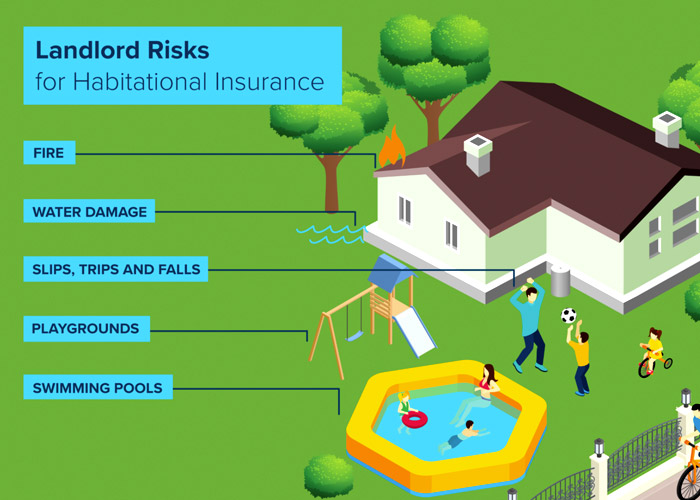 Fire
The best way to prevent costs incurred by a fire is to take preventative measures. Equipping all rental units with working smoke alarms and regularly maintaining the alarms is key.
The National Fire Protection Association (NFPA) recommends replacing your smoke alarms every ten years and changing the batteries in each alarm at least once a year. You can create an extensive, interconnected net by making sure you have fire alarms in each bedroom, outside each sleeping area, in the living space, and one at least ten feet from the nearest cooking appliance in the kitchen. Make sure to follow the manufacturer's instructions for installing and maintaining the alarms you have purchased.
Click here to read more details on installing, testing, and maintaining smoke alarms.
Swimming Pools
While swimming pools may attract tenants to your property, it's vital you follow proper health codes and implement safety measures to keep your tenants safe. If you're unsure of your local health codes, you can check with your city, county, or state health department.
You can minimize risk by keeping the proper rescue equipment in place and putting up clear, readable signs with the pool rules. Prevent accidents by maintaining a high-quality fence around the pool.
Water Damage
Water damage can be a difficult risk to keep track of. Whenever you enter the premises, keep an eye open for any puddles, stains, or mold. You can also make tenants aware of what water damage can look like so they can report to you if necessary.
Slips, Trips, and Falls
Keep your tenants safe by fixing any uneven floors, walkways, and sidewalks. Minimize any tripping hazards such as worn carpet. In the winter — if there is snow and ice — clear walkways as necessary.
Playgrounds
The best advice for maintaining a safe playground is to follow the guidelines put out by the United States Consumer Product Safety Commission. Their checklist outlines what a safe playground looks like in an easy to read and follow manner.
You can also take preventative measures by frequently inspecting your property's electrical, plumbing, appliances, HVAC, and roofing, and updating them as needed.
As professionals in the field of habitational insurance, we make it our business to know you and your concerns. We spend time learning and listening to better serve you, our clients.
You've worked hard to build your business. The next step is to protect it. We'll assess what your risks are and help you tailor an insurance policy for your business.
We'd love to chat with you. Contact us today!